Pin Game
If I could sum up this past month in a single word, it would be hectic. Here's a recap of some major events.
I had a seizure during my vasectomy. I'm periodically updating a draft so the post can follow the process from beginning to end, and capture more of the experience all at once. I go in on the 20th for a urologist to perform the procedure while I'm unconscious.
I jumped on an opportunity that I had with Buy Idaho to become a member. The Barber Story will be listed as the only Idaho blog in their directory that gets sent out all over the state. I like that it's small steps that feel like the biggest accomplishment in getting this blog off the ground. With that in mind, I got off my ass and launched the new version of the website after dragging my feet for two months.
The shop has been getting a lot of new attention because of some incredibly positive yelp and Google reviews, and I had been anticipating more traffic because of the shop also getting listed with Buy Idaho. For months, I have been working on a promotion centered around a hobby that started when I was in school, and it all came together at the same time. Like I said, hectic. But even so, building this promotion was one of the most fun experiences I've had in a long while.
If you go through any pictures of me in school or in the shop, I've always had pins on my apron. My brother got me one while I was in school and collecting them turned into a bit of a hobby. A few have fallen off of my messenger bag, so now the majority of the collection is displayed safely on a cork board at home.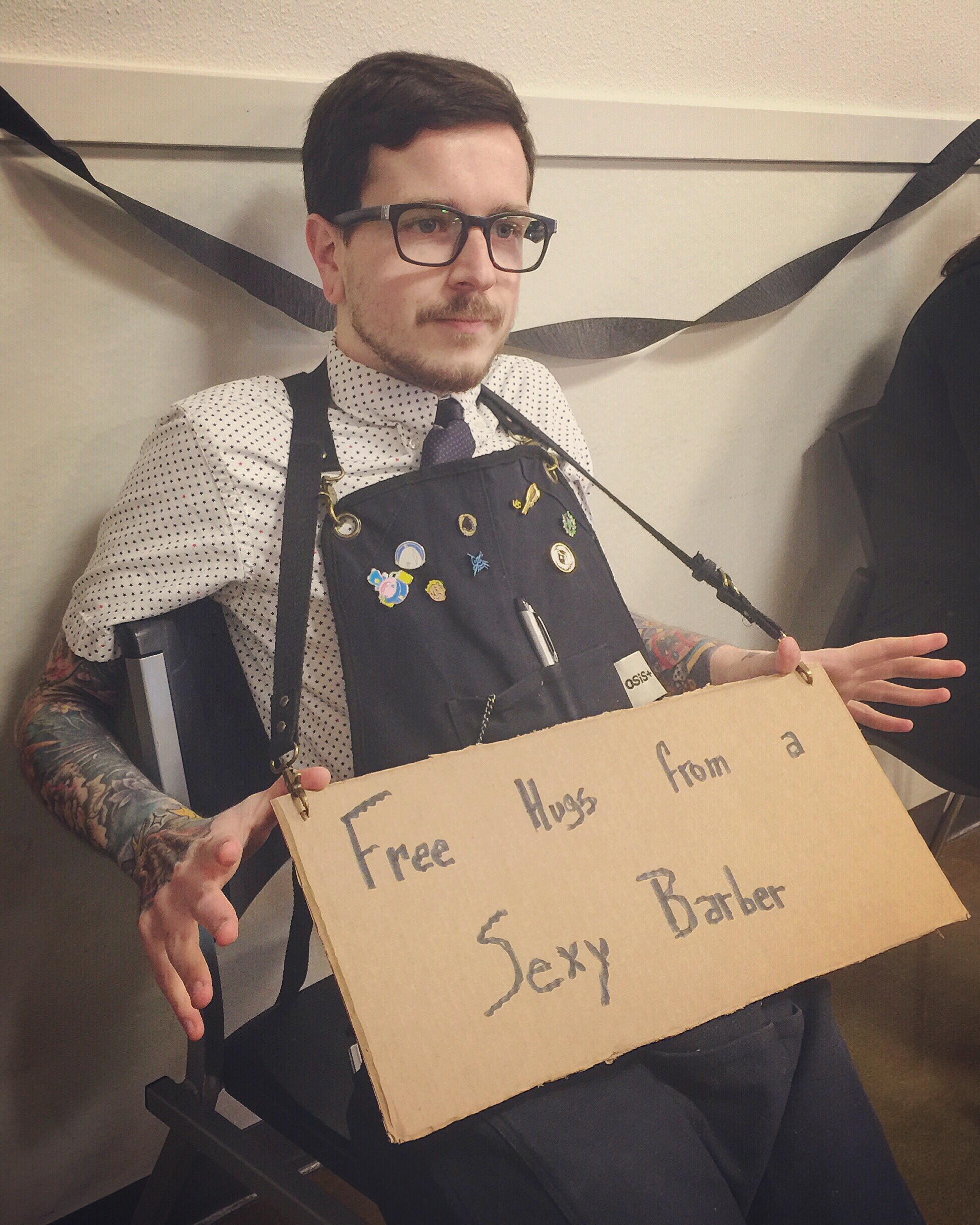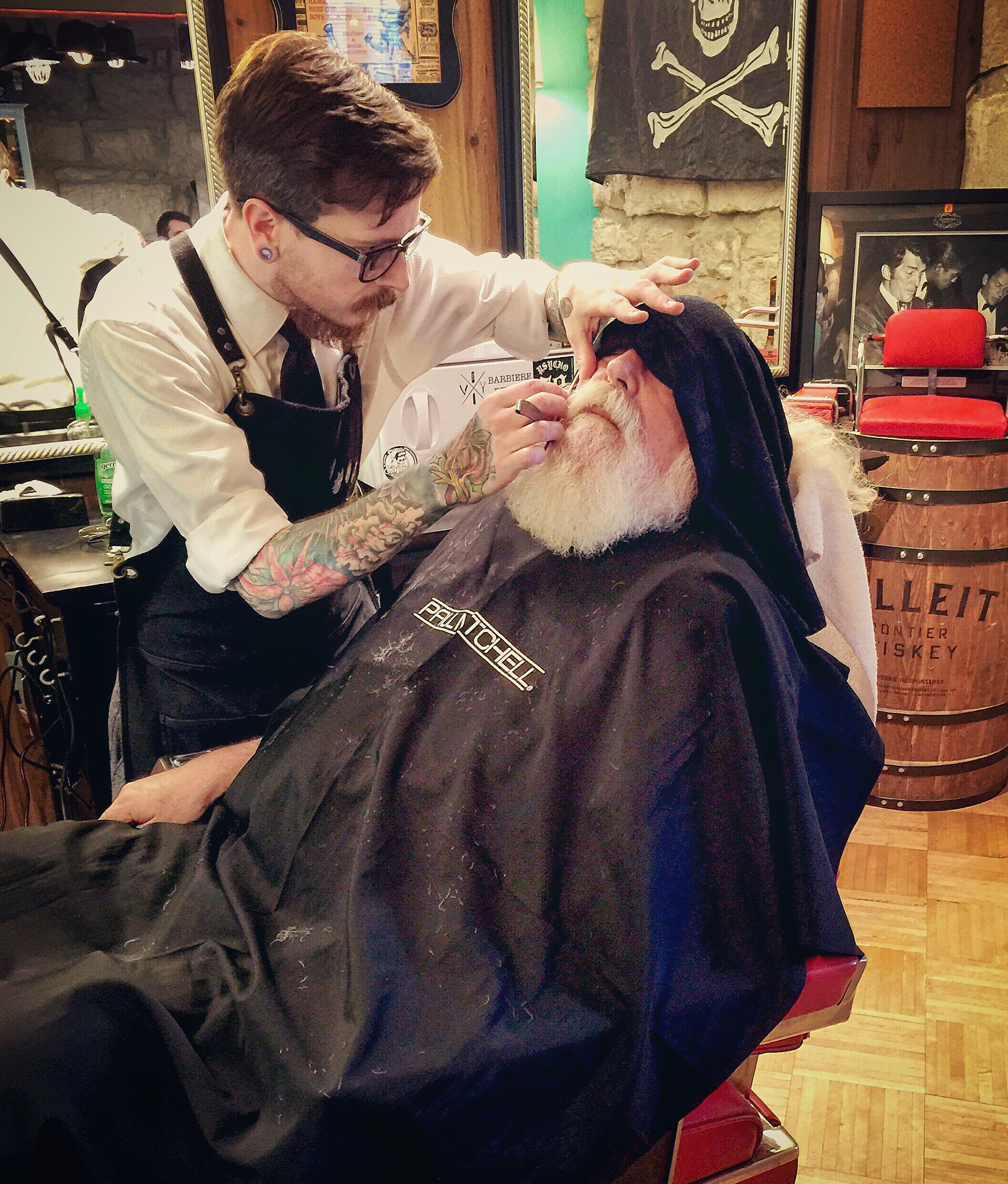 On February 9th, I messaged a guy I had purchased several pins from. I was curious about how to get something made, and he pointed me in the direction of a print shop in Houston, TX. He had never worked with them directly, but he had seen their name around the community a few times. I then emailed a girl named Jessica and quickly learned there was a lot more involved than just simply drawing a picture and scanning it in. I needed to learn something called vector files. What the hell are vector files? I downloaded a program called Inkscape and start fumbling around, but couldn't quite grasp it. I e-mailed Jessica back and she was able to get me the rest of the way. After a little bit of correspondence. the order was placed and the waiting game began.
A few weeks later, I get my notification that my order has had been completed, and they sent out tracking information. I hadn't been so excited for a tracking order's estimated date of delivery since I left the shop in the middle of the day to get my first business cards. April 8th was when they arrived, and when the box showed up, I was surprised to find that it actually fit inside my mailbox.
I opened up the box and what do I find waiting for me? Stickers, buttons, and swag galore! As I lifted my free crap off of the top of everything, I find all of my pins have been neatly organized in increments of tens so I can quickly find specific numbers. I grab the "001" from both variants and immediately stake my claim. These turned out even better than I could have hoped.
When I had been pricing everything out with Jessica, I wanted to make sure it would be a pin that I would be stoked with having myself. I hate pins that rotate. It annoys me when they turn themselves upside down, and I find myself constantly readjusting them. Dual posts were a must. I personally, had always preferred soft enamel over hard enamel, because I like the texture it provides. I had originally planned on ordering 150 of the design I sent in, but Jessica suggested a sandblasted raised nickel finish as an alternative to the gray color on the razor. We wanted to go with the shop colors, but I was really curious of what they could pull off, so I decided no re-orders, just the two variations, and I ordered 100 of the design she suggested.
So now I'm sitting with a box filled with 250 pins, and I can't do anything with them yet as I need to figure out backers for them. I don't want to invest a whole lot on backers because the whole point of them is to raise funds for the shop to get all of the plumbing set up for a washer/dryer unit in the shop. I hate bringing towels home on a bi-weekly basis, but it's all part of the process. DeVino has had to deal with it for a year and a half, and we also have Matt coming in as a third barber in the middle of the summer. I'd really like to have it set up where he doesn't have to deal with some of the things we're already facing, and these are the ways I know how.
For years, I created incentives for KPI metrics in a call center. That's essentially marketing in a nutshell. Find something people can relate to, and run with it. DeVino had suggested just using old playing cards, so I went to 8 different thrift stores on April 11th looking for monopoly games. I found a single game, and it gave me 15 cards I could actually use. 235 to go. I donated my personal games and DeVino found another one, but I was still coming up incredibly short. I eventually went on eBay and ordered a lot of 200 chance/community chest cards, and decided that $15 on eBay is worth not having the headache of driving all across town. I wanted the community to take a chance on us because it means I can do more of what I love. In this situation, my love is towards biking instead of driving due to laundry constantly being transported either to or from the shop.
Take a Chance on Stronzo was born.
The package I ordered from eBay arrived and Hailie and I spent two hours watching Netflix and putting pins on cards. She's way more organized than I am, so she got finished with her 150 faster than I finished my 100. The blue package on the coffee table happened to be the 3 pins I preordered from OhPlesiosaur. This was also Serena's first entry into pins, and as it turned out, she also used Night Owls, and I thought it was completely fitting that it arrived the same day I was able to get everything all put together for my own pins.
April 27th, I'm up late working on an overhaul of BarbiereDeVino.com. I stay up until 2am publishing a new version of the shop's website and get an article up about the shop's first limited run promotion. Save & Publish. Now I just need to find the response. The next day, DeVino tells me that he has been getting a lot of interest on the pins. Then halfway through the day, someone comes in. "Do you have the pins in stock yet?" "Not until next week." "Those pins are fucking cool, I want to get one of the metal pins and 2 of the color ones. Can I give you money now and pick them up as soon as they are in stock?"
That's a cool feeling. I got to share something I love with someone who loves it too. I recognize my limitations, but I'm trying to use these experiences to shape how my limitations are defined. I'm not the most social person, it takes a bit to force me out of my shell. I don't really view myself as an outspoken person and so I find myself pouring thoughts out onto paper in the hope that someone will relate to my ramblings. I struggle with the realization that I'm a mostly negative person clinging to the hope that positivity will start making sense for me one day. I'm still struggling on a daily basis, but I really do still try to find the positive in every situation.
A few days ago was April 21st. One year ago I started PMTS, and I was terrified that I made a very expensive mistake. Maybe I should have stayed in call centers and just kept playing the game. I was doing much better in a financial stance, I made WAY more money than I do now. I might make less money, but I still pay all my monthly bills and I don't think about suicide anymore. Hailie and I are spending more time enjoying life. I make less money, but that forced me off of pharmaceuticals. I make less money now, but I now have a plan to build my future.
Perspective provides purpose. Purpose drives you forward. Widen your perspective, find your purpose.